From the PESTI exhibition map can be seen the location of stand places and their numbering. This year the fair area has  been extended all the way to the university's main building, where our Career Hub is located! Please see the reserved stand places down below. All stand places are now reserved!

The stand places in Tellus are 3m x 1m in size and are provided with a tall round table. Own small backround roll-up or similar.
Stand places marked with green and yellow rectangles are suitable for rented or own wall consturction. Stand places marked with zigzag are suited only for light furnishing (e.g. backround roll-up and table).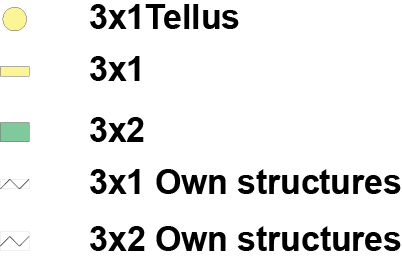 Reserved stand places:
1 Talenom Oyj
2 Olvi Oyj
3 ALTEN Finland
4 KPMG Oy Ab
5 Teknologian tukimuskeskus VTT Oy
6 A-Insinöörit Suunnittelu Oy
7&8 Printo Cent and Industry Cluster companies
9   Bitfactor
10 Accenture Oy
11 RD Velho Oy
12 Rainmaker Contact Oy
13 Elomatic
14 Yara Suomi Oy
15 Freeport Cobalt Oy
16 Sitowise Oy
17 Agnico-Eagle Finland Oy
18 Teknillinen tiedekunta
19 Ramboll Finland Oy
20 SSAB
21 Destia Oy
22 Solita
23 Air Liquide
24 Caverion Suomi
25 Kesäteekkarikampanja Turun seutu ja Rauman kaupunki
26 Stora Enso Oyj
27 CGI Suomi Oy
28 Pehutec Oy
29 Studentwork HR Oy
30 Medanets
31 aTalent Recruiting
32 Vaimo Finland Oy
33 Koodiviidakko Oy
34 Ponsse Oyj
35 F-Secure Oyj
36 Empower IM Oy
37 Autori
38 Tapojärvi Oy
39 H&M Hennes & Mauritz Oy
40 Polar Electro Oy
41 Synopsys Finalnd Oy
42 Bittium Technologies Oy
43 Oulun Energia Oy
44 Nordic Semiconductor Finland
45 Protacon Group Oy
46 MediaTek Wireless Finland Oy
47 Augumenta Oy
48 Nokia
49 Tekniikan Akateemiset TEK
50 Siemens Osakeyhtiö
51 Outokumpu
52 Tieto Finland Oyj
53 Osuuskauppa Arina
54 Esju Oy
55 The QT Company
56 Pöyry Finland Oy
57 Codemate Oy
58 LähiTapiola Pohjoinen
59 Trainers' House
60 Uros Oy
61 Sihti Oulu Oy
62 Keysight Technologies Finland Oy
63 Hefmec Engineering Oy
64 CDK Global Finland Oy
65 PiiMega Oy
66 Tosibox Oy
67 Saranen Consulting Oy
68 R-taso Oy
69 Technia Transcat Oy
70 Siili Solutions Oyj
71  BusinessOulu
72 Andritz Oy
73 Remod Oy
74 Boliden AB
75 Elektrobit Automotive Finland Oy
76 Metsä Group
77 Skoda Transtech Oy
78 Boliden AB
79 Fennovoima Oy
80 ABB Oy
81 Teollisuuden Voima Oyj
82 Sweco
83 WSP Finland Oy
84 Exove Oy
85 Prysmian Group Finland
86 Etteplan
87 Pohjois-Pohjanmaan TE-toimisto
88 Valamis Group Oy
89 RekryKainuu -hanke
90 SAS Institute Oy
91 Proventia Oy
92 9Solutions Oy
93 Wapice Oy
94 Visual Components Oy
95 Texas Instruments Finland Oy
96 Fujitsu Finland Oy
97 Azets Insight Oy
98 Fast Enterprises LLC
99  Oy SKF Ab
100 Mectalent Oy
101  Idesco Oy
108 NJC
109 Meka Pro Oy
110  Lappset Group Oy
111   Specim, Spectral Imaging Oy Ltd.
112  Rajaville Oy
120 Kesäteekkarikampanja Turun seutu ja Rauman kaupunki
121  Neste
123 Normet Group
124 Buutti Oy
125 K-ryhmä
126 Terrafame Oy
127  Future Savo
128 Arctic Security Oy
129 Nouryon
130 Visidon Oy
131  Oy Pietarsaaren seudun Kehittämisyhtiö Concordia
132 Meyer Turku Oy
133 KNL Networks (Kyynel Oy)
134 Valmet Technologies Oy
135 Aava Mobile Oy
136&137 NIHAK & RSYP & YSK & H-S
138 FCG Talent Oy
139 Verkotan Oy
140 Opset Oy
141  6G Flagship
142 Faculty of Information Technology and Electrical Engineering
143 Welado Oy
144 Hexagon PPM/Nestix
145 Financial Labs Oy